Open: Tuesday, Thursday, Friday, Saturday, Sunday 12-3pm. Thursday 5-7pm; Closed Mon & Wed.
Wish List
In caring for all of our animals, we go through a lot of items and supplies – so we happily welcome individual, organizational, and corporate donations from our Wish List! New dogs and cats arrive every day with different needs – from the basics to dietary, housing to medical, and the need for play and social interactions. As a 501(c)3 non-profit animal welfare organization, donations made to the shelter are fully tax deductible as allowed by law.
Two easy ways to contribute to EASEL at Amazon:
If you enjoy shopping, use AmazonSmile and .05% of your eligible purchases will be donated to EASEL Animal Rescue League! There's no paperwork to fill out. All you need to do is shop through AmazonSmile and confirm that EASEL's name appears as the charitable beneficiary at the top of the page. Easy, fun and greatly appreciated by our shelter animals and staff!
Purchase Wish List items and have Amazon ship them directly to us at EASEL Animal Rescue League, 4 Jake Garzio Drive, Ewing, NJ 08628. Our furbabies will be so happy to receive your gift package!
All of us (animals and folks) appreciate your generosity. You can even spread the love by sharing EASEL's Wish List (PDF) with your friends, work colleagues, school clubs, and even fantasy football league. Thank you from the bottom of our hearts!
Priority Wish List Items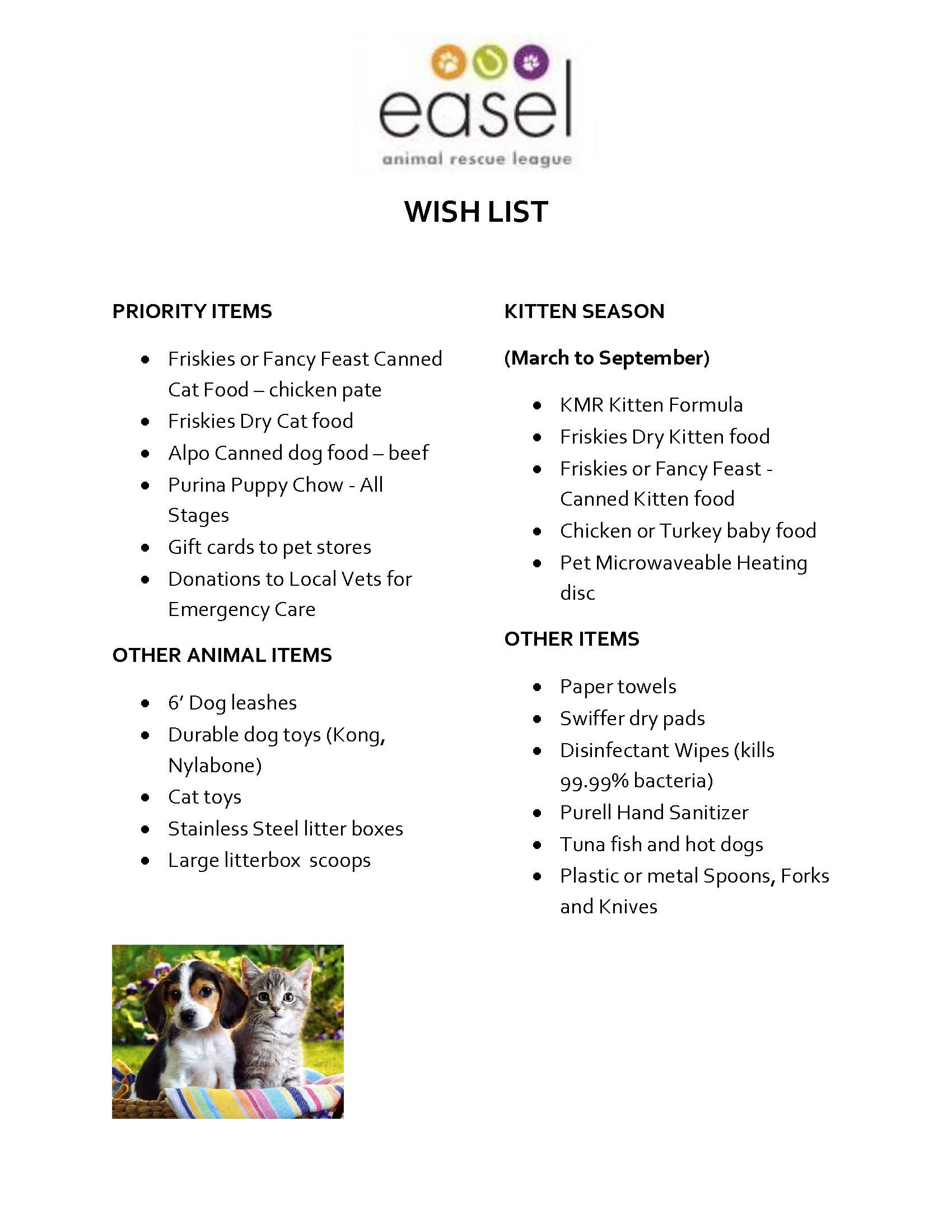 Friskies or Fancy Feast Canned Cat Food




(chicken pate flavor)

Purina Indoor Complete Dry Cat Food

Alpo Canned Dog Food (beef flavor)

Purina One Complete Puppy Chow

Dog and Cat Pill Pockets

Gift Cards to pet stores
Other Animal Items
Durable dog toys (Kong, Nylabone)
6' Dog leashes
Cat toys
Large Litter Box Scoops
Feliway calming spray & diffusers
Adaptil calming spray & diffusers
Kitten Season (March-Sept)
Kitten Formula (KMR)
Miracle Nipples for kittens
Purina Kitten Chow
Friskies or Fancy Feast Canned Kitten Food
Chicken or Turkey baby food
Pet Microwavable Heating disc
Other Items
Bleach
Paper Towels
Swiffer Dry Pads
Swiffer Wet Jet Pad and Solution
Paper Plates
Plastic or metal spoons, forks and knives
We appreciate you thinking of us, but we cannot accept
Opened bags of pet food • Frozen or fresh pet food • Used pet brushes
Pillows • Crocheted or knitted items • Down or filled blankets or comforters