Open: Tuesday, Thursday, Friday, Saturday, Sunday 12-3pm. Thursday 5-7pm; Closed Mon & Wed.
Angela States Vet Guardian Fund
The Angela States Guardian Fund has been instrumental in providing EASEL with financial support to partially or fully fund significant medical procedures or surgeries that help animals in need. The Fund is used in situations where shelter pet care is urgently needed or cost would impact adoptability. It is also used when owners in our area cannot afford to treat their pets.
Since its inception, the Angela States Guardian Fund has helped a total of 44 cats and dogs. Below are a sample of the wonderful animals helped.
*On donation page please enter "Angela States Fund" on the special campaign field.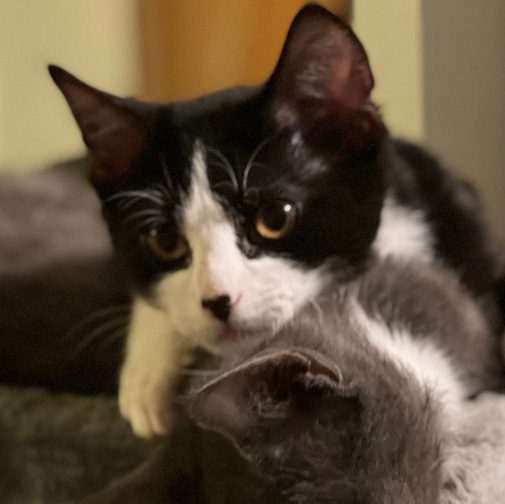 Tux was adopted from EASEL with another kitten, Abe. Over the next couple of months, his family noticed that he didn't seem to grow much compared to Abe. Then one day, he started drooling and collapsed. Tux was rushed to the emergency room, where testing revealed that he had a portosystemic liver shunt. This life-threatening birth defect needed to be repaired to stop the toxic build up in his blood, but the surgery cost was over $4000. The Angela States Guardian Fund provided funds to help cover the bill. Tux is now back home and on the mend. He is expected to fully recover and enjoy his home with Abe.